Motherland: Fort Salem Episode 5- Bellweather Season- Review And Recap
Love is a battlefield when a Bellweather wedding becomes the next Spree hit on Motherland: Fort Salem Episode 5.
Gender tropes, familiar race issues, and terrorism are all explored in exciting ways in Motherland: Fort Salem Episode 5. In fact, it is something the series as a whole has done very well. It is what has allowed yet another teen drama about witches to feel fresh. Nothing is taboo in this new world that is not that different from our own.
There are a few things that never change. Regardless of matriarchal societies and religious acceptance, there are still those who have and those that don't. A gorgeous, luxe wedding is the perfect setting to demonstrate that truth. In terms of connected families, the Bellweathers are about as powerful as they come next to General Adler. Abigail resents the doors that situation opens just like Raelle resents the ignorance that privilege provides Abigail. They are all stuck in our roles.
Abigail and Raelle are the yin and yang of the unit. One is a wealthy girl of class, and the other is a spiritual girl from a more impoverished area, the Session. Together with Tally, they could be a powerful team. They are learning to become capable fighters but are still struggling to rely on each other. Their differences continue to cause rifts. Those were shown in glaring detail at the wedding. Abigail constantly worries what others think about her. She is desperate to make a name for herself. She is not content to simply be Petra's daughter. That need puts a lot of pressure on her and her team by proxy. She learned a valuable lesson in Motherland: Fort Salem Episode 5, stature buys you opportunities, but it can also bring constant stress. As the group learns, it doesn't provide safety.
Watching Abigail with her family provided backstory for her rigid personality. All the trappings of wealth make her feel smothered even while she is embarrassed by Tally and really who enjoys the benefits. She is desperate to give an excellent first impression to the Dean of the War College. When poor Tally, who just had her heart broken and Raelle walk away, she is forced to beg. The Dean tells her what the other girls have always known. She doesn't need to do anything but show up. With her family lineage, she is guaranteed a spot. Instead of being relieved, she is angry. In her mind, her family is a liability, not an advantage. When the Spree kills Abigail's cousin and tries to kill her, her mother proves to be a worthy fighter.
Scylla has been tasked with getting invited to the wedding and delivering Raelle to the Spree. Why they want her, we don't know, but I'm guessing it isn't to give her a medal. Her character development has been meteoric, and this week it continued on that fast-paced trajectory. She is a bad girl. There is no getting around it. She is manipulative, murderous, and involved with a terrorist group. Unfortunately, she happens to also be in love with the one person she was supposed to work. It's probably not a great idea to fall in love with your mark.
Fall in love, she has, though. When Abigail refused to extend a plus one to her, she takes matters into her own hands and shows up at the wedding. The two women share quite a few scenes that speak to their relationship. Long walks, corsage totems, and slow tender dances sum up what they mean to each other. Scylla is supposed to bring Raelle to The Spree. They have threatened Scylla if she doesn't comply. When the deadline comes, and she doesn't deliver, The Spree goes with Plan B. In the chaos of the attack, Scylla escapes. She is gone, but her secret is out. The spell she put on Raelle's hand to communicate remotely could come in handy to track her down. I will be curious if it puts Scylla in as much danger as Raelle.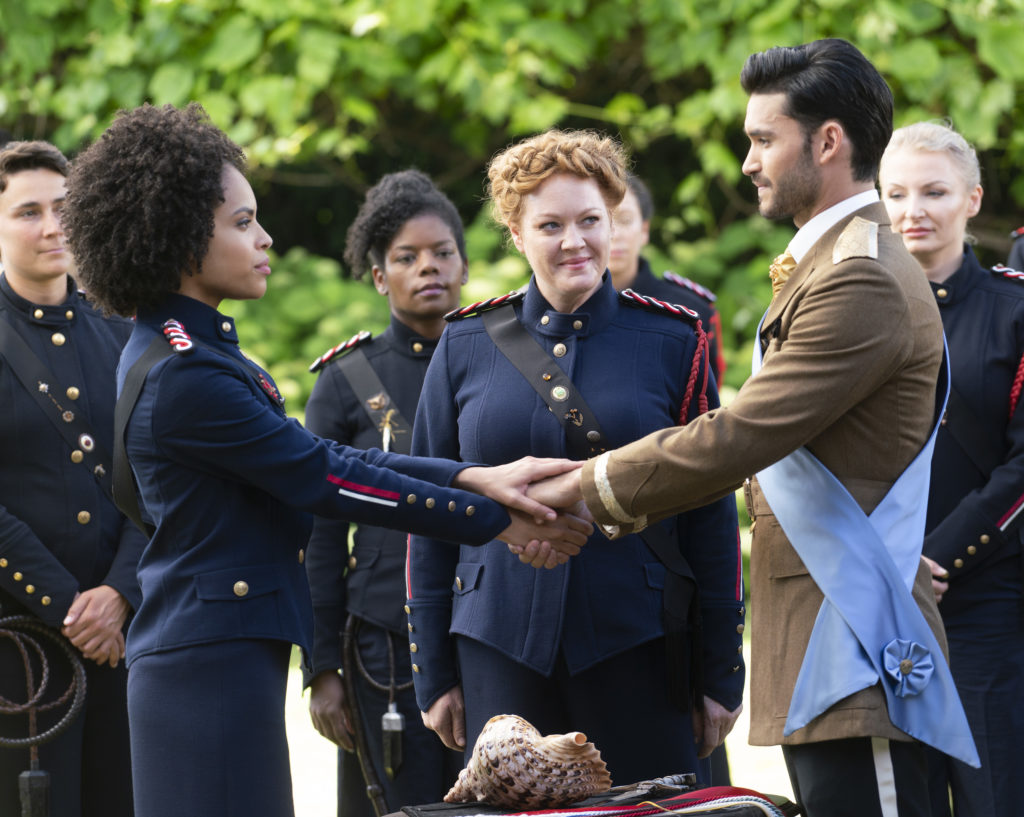 Rituals are an integral part of Motherland. The weddings look, feel, and operate uniquely. The ceremony itself is a mix of feminine grace and power. It is a five-year union that is more about family bonds forming than fidelity. Abigail's cousin explains the union is not as restrictive as one would think and provides strength in an alliance. Women are encouraged to take many husbands in their lifetime. These men act as caregivers. Their job is to keep the home fires burning while the women fight. Women are revered for their fighting prowess. They seldom get a chance to be soft. Abigail's cousin is excited for an opportunity to be "girly". Makeup, braids, dresses, or pantsuit, we all have our armor. Those things that make us confident are all different.
Music is carefully chosen to drive the mood. The world of Motherland revels in all things female. Feminity has many facets. Strong, sexy, beautiful, smart, and ambitious, there are many components to a woman. The only one that is tempered in the world of Motherland is the traditional female trope. Witches dress for respect, not ogling. In sharp contrast to this is the lilting tones of Labyrinth Ear's Urchin during the wedding and WLCM by Lidia Ainsworth. Juxtaposed with the strict language and uniform of the women, it is an interesting and compelling choice.
Motherland: Fort Salem Episode 5 was a perfect balance of love and war. With Scylla on the run, Tally heartsick and Raelle soon to be The Spree may think they achieved a victory. They did create chaos and killed Charvel. What they likely didn't count on was Tally's information and the perseverance of the Bellweathers. With or without magic, they don't go down without a fight. The new unit is emotional, committed, and pissed. If Abigail's mother is to believed Raelle has a unique talent. Scylla's deception will hurt her, but her skill makes her dangerous to them and a good foil for Scylla's Necro discipline. That isn't good news for Scylla and The Spree. Catch up on all our Motherland coverage here.
Stray Thoughts:
I am fascinated by the Session. When did it form? Who decided what was given to the Native Americans? They are very spiritual themselves, are there shaman who have power similar to the witches?
The fight scene between The Spree and Abigail and her mother was well choreographed by Paul Becker. It reminded me a bit of the fantastic fight scenes in Into The Badlands. The myriad of shot angles including a mirrored image made the scene larger and more violent than it would have otherwise.
What's the deal with the voice dampener? Is it a tool or a magical skill?
Shout out to Folks VFX for the supremely gruesome neck wound on Charvel Bellweather.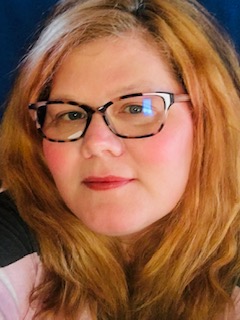 As the TV/Streaming Editor for Signal Horizon, I love watching and writing about genre tv. I grew up with old school slashers, but my real passion is television and all things weird and ambiguous. When I'm not watching and writing about my favorite movies and series, I'm introducing my family to the wonderful world of sci-fi, fantasy, and horror. My only regret, there is not enough time in the day to watch everything.