Shudder Secrets: Horror Noire: Favorite Segments
Horror Noire: A History of Black Horror is a must-watch for horror fans. Even someone with just a slight interest in film will find it eye-opening. Based on Robin R. Means Colemen's book, Horror Noire: Blacks in American Horror Films from the 1980s to Present, it's a comprehensive look at 100 years of film and the role of Black Americans in genre movies. It addresses common tropes, like "the Magical Negro" and sacrificial friend, while featuring interviews with several Black directors, including Jordan Peele and Rusty Cundieff (Tales from the Hood), and Black actors and actresses, like Rachel True, Tony Todd, among many others.
Following the documentary's success comes the anthology Horror Noire, featuring six segments that showcase Black screenwriters and creatives. Some of the writers include genre stars like the husband and wife writing duo Tanarive Due and Steven Barnes, Victor LaValle, among others. Some of the cast will be familiar too, including Todd and True.
Most horror anthologies are uneven, but that's not the case with Horror Noire. Each segment is strong. Cool creature features mix with realistic segments about red-state politics in places like West Virginia. Narrowing down my favorite segments proved difficult. Below is a list, but I encourage viewers to watch the entire anthology. It's well worth the run time.
Minor spoilers below.
The Lake
With a teleplay written by Due and Barnes, based on their short story, "The Lake" is an incredibly unique creature feature, directed by Joe West. Lesley-Ann Brandt plays a teacher who relocates and purchases a beautiful piece of property next to a lake. It's unclear at first why she moves, but a neighbor warns her not to swim in the lake because it has the power to appeal to one's worst thoughts. It's a neighborhood spook story of sorts. Even her students have heard about the lake. Something sinister lurks beneath the water, they claim.
This is a wonderfully atmospheric segment, with cicadas constantly humming and the sound of water lapping ever-present. The lake becomes a mysterious and interesting setting, a character unto itself that may or may not contain a supernatural creature. Of course, since this is a horror anthology, the protagonist eventually succumbs to the temptation and steps into the water.
What follows is an intriguing bit of body horror, as the lead undergoes a change that I didn't quite see coming. To complicate matters, she makes sexual advances on a student, played by Nathaniel Logan McIntyre. Everything in this short unfolds at just the right pace. Even the protagonist's reasons for relocating are eventually revealed at just the right moment. Hint: she has the hots for her students.
Oh, and I'm giving this one props for including poems by Poe and Audre Lorde and a heavy conversation between the teacher and students on death and living. This first segment is the perfect opening.
Bride to Be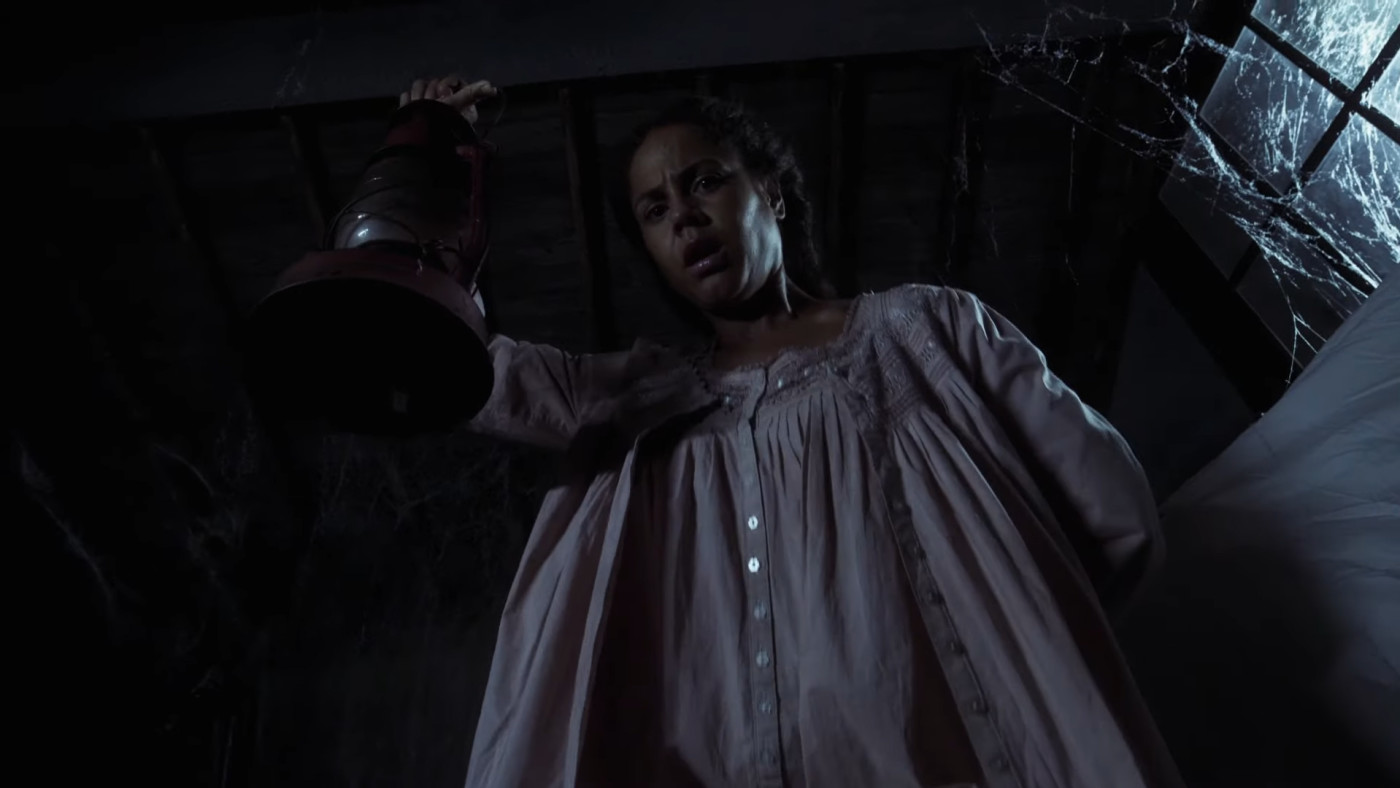 In horror, a monster can stand as a metaphor for so many things. In the case of "Bride to Be," the massive, spider-like creature that haunts a rickety old mansion is a metaphor for the challenges Black women face and the tough choices they must make as parents. This is a period piece, initially set in the late 19th Century before easing into the early 20th Century, with references to Black Wall Street. It stars Lenora Crichlow as the wife of a politician who relocates the family from DC to New York. He sees her as little more than a woman who should bear his children. She spends most of her days as a spinster, feeling a connection to her ancestors each time she touches cotton. Desperate to have a child to please her husband, she turns to a "root woman" who gifts her a baby but at a steep price.
The writing in this one is incredibly smart, so major props to Shernold Edwards, who based this on a story by Stephanie Malia Morris. This segment, directed by Zandashé Brown, elevates the house, using it to up the creep factor. Floors and walls creak. Something whispers and pounds on the walls. It's unclear at first what haunts the mansion. Is it previous residents? Ancestors? The creature? Ultimately, it's revealed what torments the family and why it nearly drives the mother mad. It's a poetic ending. The creature, a daughter the mother buried, has righteous rage and reasons for slaying any of the son's brides to be. She just wants a little love, a mother's touch.
Out of all the segments, I found this one the most layered, a deep exploration of historical trauma, racial progress, and the struggles Black women face, best illustrated by the fact that the husband merely wants to ascend the political ladder, while cheating on his wife and only caring that she can have kids. It's a reminder that post-Reconstruction especially, racial progress wasn't consistent between men and women.
Fugue State
This just might be the most bonkers segment among the half-dozen. Malcolm Barrett plays Dr. Arthur Barry, a university professor and author who studies religion. He's on the cusp of hitting the big time, with an impending interview on CNN. However, after attending a religious service called The Third Way as part of his research, he's sucked into a cult, led by the mysterious Rev. Pike (Todd), who's only revealed in the last few minutes.
Meanwhile, true believers paint their faces red and kill non-believers in the community. True plays Charlotte, Arthur's wife, and a reporter trying to get to the bottom of the attacks. However, as the segment draws on, she has a crazed husband to deal with. His mental state worsens and all he cares about is attending church. His body undergoes a few bizarre transformations, too. For instance, for whatever reason, he can no longer read.
So much of this segment resonates because Pike encourages his followers not to seek medical help, claiming the white coats invent diseases that kill children so they can keep selling drugs and vaccines. This anti-science thread chills so much because it's a reminder of the daunting sea of misinformation out there during the pandemic, the constant stream of anti-vaccine rhetoric that's delayed a full return to normalacy.
This is another segment written by Due and Barnes and based on one of their short stories. Directed by Rob Greenlea, it features top-notch acting from Barrett, True, and Todd, who only appears in the last few minutes, all fire and brimstone. But it's worth the wait.
Other Highlights
"Daddy," written by LaValle and based on one of his short stories, has a downright unnerving ending and reveal regarding a frightful doppelganger. It's one of the best moments that I've seen in horror all year. The last segment, "Sundown," proposes that canvassing in West Virginia for a Black Senate candidate, especially if you're a Black organizer, is truly terrifying. Even white organizers who claim to be liberal don't quite understand why Black organizers would be offended by whites-only signs that still linger. Meanwhile, the small town's mayor (Peter Stormare) plays the violin and leads the canvassers down an increasingly dangerous path. In this segment, Joe Manchin is the least of the state's problems for progressives. The mayor and the residents are all kinds of scary, rooted in real-world racial prejudice.
Overall, this is a horror anthology well worth the two-and-a-half-hour runtime. Stay until the end. These are smart stories by Black creatives, many with political and social overtones that never feel overly didactic. Horror Noire is a rare Halloween treat, an anthology with several strong segments. Further, at a time when red states are rushing to pass laws that would ban "critical race theory," turning school board meetings into cultural battlegrounds, the documentary and this anthology become increasingly important. They tell stories that need to be told, and as the noises in "Bride to Be" remind us, you can't ignore or forget the past. To do so is perilous.
The anthology comes to Shudder on Thursday, Oct. 28, while the documentary is available to stream now. For more on the streaming service's latest original and exclusive content, check out my Shudder Secrets column.
Brian Fanelli is a poet and educator who also enjoys writing about the horror genre. His work has been published in The LA Times, World Literature Today, Schuylkill Valley Journal, Horror Homeroom, and elsewhere.  On weekends, he enjoys going to the local drive-in theater with his wife or curling up on the couch, and binge-watching movies with their cat, Giselle.